Eric Dinerstein's Nature Essays
Eric Dinerstein lives in Cabin John, Maryland, and he frequently visits Monticello Park. Since April, 2013, he has been writing essays about nature for the monthly Cabin John publication The Village News. Eric uses his broad knowledge of the natural world to illuminate the myriad aspects of nature which can be viewed in the Washington metro area. The essays are illustrated by Trudy Nicholson, who also lives in Cabin John.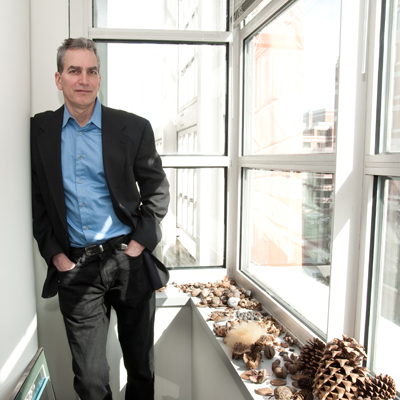 Eric is the Director of Biodiversity and Wildlife Solutions at RESOLVE, a nonprofit organization that forges sustainable solutions to critical environmental, social, and public health challenges by creating innovative partnerships where they are least likely and most needed. He is the head of RESOLVE's Biodiversity and Wildlife Solutions program, which combines creative field-oriented approaches to conservation with innovative science and technology to dramatically improve how we monitor and protect endangered wildlife, their habitats and the communities who rely upon them. RESOLVE is currently teaming up with other groups to map a global "safety net" for the planet that would protect and connect 50 percent of the world's land area. The effort was launched and funded by the Leonardo DiCaprio Foundation as part of a larger $20 million grant that aims to accelerate ocean and land conservation initiatives, indigenous rights, and innovative solutions to the climate crisis. (The Leonardo DeCaprio Foundation is now part of a larger organization called Re:wild)
Previously, Eric was Lead Scientist and Vice President for Conservation Science at the World Wildlife Fund. His areas of specialty include tropical mammals, large mammal biology, biogeography, bats, rhinos, seed dispersal, and community ecology. He has led many important scientific projects, including mapping the Global 200 Ecoregions, examples of which form the basis of his book Tigerland and Other Unintended Destinations. He is also the author of The Kingdom of Rarities, The Return of the Unicorns: The Natural History and Conservation of the Greater One-Horned Rhinoceros and What Elephants Know: A Novel, among other articles and publications.
You can access Eric's essays in PDF format from the list below.
2023
• Pausing, to Appreciate the Comma
• A Cranefly in Winter
• A Churn of Earthworms
• With Respect to the Ant
• Bumblebee's SOS — A Plea for Help
• Of God and Beetles
• Bats and COVID

2022
• Nightlife
• Hiding in Plain Sight
• Bubo the Great
• Peeps of Spring
• Nighthawks
• A Summer of Bats
• Brown Bats, Big and Small
• Bats and COVID
• Muskrateer
• Here Comes the Coyote

2021
• Homegrown Wildlife Preserves in Cabin John: Getting in on the Ground Floor
• Building a Backyard Wilderness II: A Trio of Glorious Native Shrubs
• More Ground to Cover
• Nature Rolls Out Her Carpets
• Pride of Maryland
• The Tree with the Fringe on the Top
• Shady Characters
• Summer's End
• Order in the Garden!
• A Golden Oldie

2020
• A Year of Invasives: A Murmuration of Starlings
• The Sounds of Rivets Popping: A Farewell to Eastern Hemlocks?
• Invasion of the Buttercups
• From COVID-19 to Garlic Mustard: The Urgency of Confronting Invasives
• A Fragrant Infiltrator
• Death by Honeysuckle
• Privet-ization
• Beware the Wintercreeper
• The Perils of English Ivy and Other Stranglers
• Life Without Chestnuts

2019
• Bluebirds in Winter
• The Winterberry Army
• A Mouse with a Beak
• Spring Comes Wrapped in a Mourning Cloak...or a White Petticoat
• Think Like a Skink
• Summer Passion
• Insect Armageddon: Part 1
• Our Backyard Birds Are Made from Bugs: Insect Armageddon - Part 2
• Tick Anxiety, and a Local Preventative
• Foxes Among Us

2018
• Hawkish Behavior
• Nature in Black-and-white
• Wild Turkeys
• Saved by a Rose Tree
• From the Catbird's Seat
• Developer, Homeowner, Spare That Hickory!
• The Rights of Oaks
2017
• Kneeling Before the Ground Pine
• A Hovering Falcon
• In Memoriam: Ann Lucy and the Grand Old Trees of Cabin John
• Southern Magnolias in the Flesh
• Spring Tubas, Summer Trumpets
• Nature's Opportunists
• Summer's Dragons
• Galling
• Wash-bears
• Musclewood and Moth
2016
• Winter Holly
• Great Blue Heronosaur
• Rites of a Woodcock Spring
• A Short-Lived Wonder
• All Hail the Hackberry Emperor!
• Bears in the Backyard
• What's in a Name? The Case of the Cedar Waxwing
2015
• Feeding the Hawks
• The Advantages of Smelling Like a Skunk (or a Dead Monkey)
• Ants in Our Plants
• Bambi or Godzilla?
• The Mimics Among Us
• The Wild Fruit Diet
• Bewitched
• Autumn Anomalies
2014
• Hardy Birds
• Wild Orchids in Winter
• Redhead Alert
• Wood Ducks on A Wild River
• Hissing Geese, Hungry Snappers
• Loudmouth of the Locks
• Bogeymen of Nature
• Restoring the Monarchy to Cabin John
• Raven's Roost
• Cabin John – Rich in Woodpeckers
2013
• Spring Singers Worth Watching
• Washington and Jefferson's Favorite Fruit
• The Most Beautiful Bird in North America
• Honeysuckle and Hummingbirds
• Plant Bites Dog
• The Mysterious Night Raven of the Canal
• A Holiday Look at Nature